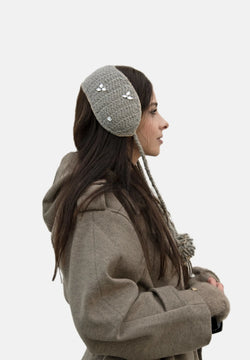 Ohrenwärmer "The Neli"
SKU: BS3-1-22
The ear warmer is from the finest cashmere and hand knitted in Hamburg.
Details:
Farbe: Graubeige
Material: 100% Kaschmir   
Hochwertige Kristallen     

Handgestrickt in Hamburg, Deutschland   

Pflege: Handwäsche mit Wollwaschmittel, nicht bügeln, nicht im Trommel trocknen, liegend trocknen.     
Colour: Greyish beige    

Material: 100 % cashmere 
High quality crystals    
Hand-knitted in Hamburg, Germany           

Care: Handwash with wool detergent, do not iron, do not dry.